We open the doors of the Medieval Challenge Dinner-Show in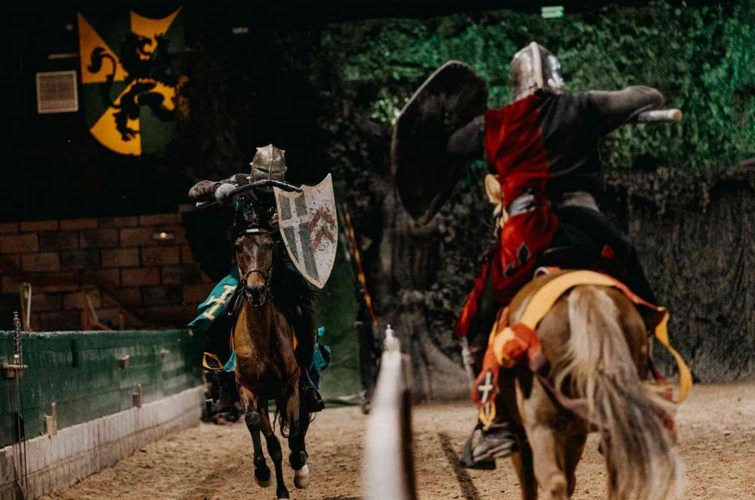 Magic Robin Hood dinner show
Desafío Medieval... Where you will be the protagonist!
We have been invited to the Castle of Nottingham, to the proclamation of John No Land as King of England.

Many Knights, including Sir Robert de Locksley, ask the King to sign a Charter of Liberties that gives rights to his subjects. But before his refusal, they decide not to recognize him as King, so Sir Robert will be dispossessed of all his titles and will become an outlaw in his own land, becoming known as Robin Hood.

Robin Hood, expelled from Nottingham, goes to take refuge in the Forest of Sherwood where he will establish an intimate friendship with Little John, leader of the outlaws, which will be reinforced by the entry into the band of the good-natured and holy Fray Tuck and the good of Will Scarlett who will risk his life to save Robin Hood's.


Opening dates 2023
GET TO KNOW THE NOTTINGHAM CASTLE
YOU ARE INVITED TO THE PROCLAMATION OF JOHN WITHOUT EARTH AS KING OF ENGLAND
Photo gallery
Live in Images the greatest spectacle of medieval times
Unbeatable Location
Enjoy Desafío Medieval's fantastic location, situated between the towns of Benidorm and Alfaz de Pi, inside Magic Robin Hood Resort.
Camino Viejo de Altea, nº3, 03581 El Albir - España
Best location
Best price online Guaranteed
The only medieval show on the Costa Blanca
We organize Thematic Events and Celebrations